HORN OF THE GOAT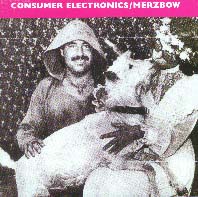 Released in 1995 on Freek Records. A collaboration between Consumer Electronics and Merzbow, reported to be insanely loud. Truly a match made in hell. A sneaky one, too: although this is credited to the two aforementioned entities, members of Skullflower and Ramleh also appear on the album.
Personnel:
Masami Akita (ems), Phillip Best (oscillators), Matthew Bower (loops), Stuart Dennison (drums), Gary Mundy (guitar).
Cut by Denis Blackham at Porky's Digital Mastering. Studio engineer: Ian McKay.
Tracks:
Horn of the Goat, Dirty Jessie, Korean Comfort, History of Child Porno in 70's Rock, Goodbye Lesley