HOMELESS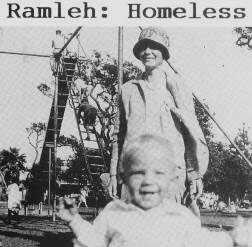 Released by Broken Flag ("the spiritual home of Skullflower and Ramleh") in 1994. The Broken Flag cassette release SOUNDCHECK CHANGELING is intended to be a companion piece to this release. "Moral? There's a 14 yr. old sitting in the electric chair smiling and smoking a cigarette." Incidentally, the smilin' boyo on the cover is a young Philip K. Dick.
Ramleh at this time were:
Gary Mundy: Guitar
Philip Best: Vocals
Stuart Dennison: Drums
Anthony di Franco: Bass on 1, 3, 6, 7
Engineered by Ian McKay.
Recorded in Londinium, 1994.
Thank you Matthew for the Rose Wallpaper.
Tracks:
Marlboro High, Homeless, Chickenhawk, FagEnders, Blind Alley Return Trip, Thumb Buster, Magic Tiger, Kansas City Bomber, Utopia Dust