NEUENGAMME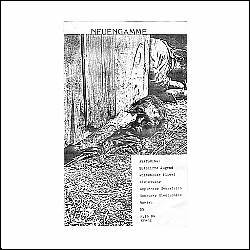 This album was the first release on Broken Flag, featuring various artists in the noise/power-electronics vein. It was subsequently "reissued" (or more accurately, bootlegged) by Remote Control with a different sleeve and a Phallus Dei bonus track. The original Broken Flag issue features a plain white sleeve with a photocopied sheet of dead people in a barn pasted on the front. The Remote Control reissue comes in a black sleeve with a hand x-ray photograph on the cover (similar to the first Faust LP).
The track listing below is taken from the Remote Control reissue.
ADDITIONAL NOTES: There is apparently an "undiscovered" Ramleh LP called YOU JUST BETTER (SLAUGHTER) that may or may not be the Remote Control reissue of A RETURN TO SLAVERY, Judging from the look of the album (which I haven't actually heard), I'd say they are one and the same; the back cover of the original Broken Flag edition of A RETURN TO SLAVERY features one of the Manson sisters with the title "YOU JUST BETTER HOPE I NEVER GET OUT" and the info "SLAUGHTER AT RANDOM, LIBERTARIAN RECORDINGS" below the three pictures of the Manson sister.
Sascha has some news about the label Remote Control: This label bootlegged other vinyl other than NEUENGAMME. They also illegitimately released the following: first three Nurse With Wound LP's, FUR ILSE KOCH v/a LP, ALL Whitehouse LP's up to GREAT WHITE DEATH, and the two Come LP's (RAMPTON, I'M JACK). They may have well been responsible for bootleggi ng the Whitehouse RECTIFIER LIVE LP (Live Actions 14 & 22), plus Sutcliffe Jugend's CAMPAIGN LP, which was NEVER originally released on vinyl (it was a Come Org. cassette-only issue).According to Nick Barrett, BF80 has been allocated twice; he also notes, "ELITE GYMNASTICS is live and outtakes from mid-90s, with LIVE 1983 being the other title for this number." He also has another Satori tape with the Broken Flag address, but no catalog number.
TRACKS:
Side One:
"Fanfare" (some trumpet fanfare taken off a film)
Sutcliffe Jugend -- "Right to Kill"
Whitehouse -- "Whore Cull/Action 5"
Kleistwahr -- "Flesh Razor"
Esplendor Geometrico -- "Untitled"
Consumer Electronics -- "Keloid"
Ramleh -- "Koprolagnia/Circle Of Shit"
Phallus Dei -- "Necrophilia"
Side Two:
Ramleh -- "Drancy"
M.B. -- "Acido Prusso"
P.16 D.4 -- "Kuhe In Halbtrauer"
Krang -- "Krang Lives"
Consumer Electronics -- "Fuck The I.R.A."