WE CREATED IT, LET'S TAKE IT OVER (VOL. I-III)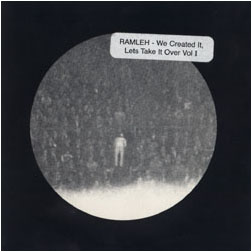 Released as three separate CDs on Pure in 1995. The cover for all three CDs is identical except for the volume number on the sticker. All three are collections of earlier Ramleh material, generally from cassette releases. Volume III contains the "Hand of Glory" single in its entirety plus live material.
The alternate limited version:
Ben Squires: "The three CD jewel cases are joined together by what looks like a sheet of magic tape down their spine and across the back of the CD. This sheet has the same illustration as on the front of the insert above. I bought this directly from Gary Mundy. Interestingly my copy of the Remote Control bootleg version of NEUNEGAMME also came directly from Broken Flag."
Tracks:
Vol. I: Suction, Throatsuck, Deathtoll, Ramleh, Emaciator, Onslaught, Phenol, Fistfuck
Vol. II: McCarthy, Purge, Drancy, Korpolagnia, Return to Slavery, Nordhausen, New Force, Phenol
Vol. III: Squassation, Prossneck, The Hand of Glory I, The Hand of Glory II, Live at the Roebuck