WORKS III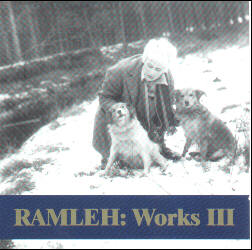 Released in 1996 on Dirter Promotions as a limited-edition (500 copies) double-disc set. This is actually three earlier releases rolled into one: SOUNDCHECK CHANGELING, previously available only as a cassette designed to accompany the HOMELESS album; ANAHEIM 73, an apparently unreleased collection; and the semi-legendary SHOOTERS HILL originally issued on CD [Shock, 1992] in a limited edition of one. Typically, the Ramleh gang have gotten cryptic again, in that there are no track listings for the first two items, which appear on disc one; the track listings that appear below are all for disc two, the SHOOTERS HILL disc. This release also continues Ramleh's peculiar obsession with Anne Frank.
Ramleh at this time were:
Gary Mundy: Guitar
Phlip Best: Vocals
Stuart Dennison: Drums
Gatefold: I Apologize # 6 by Philip Best. Band photograph by Giles Askham. Produced by Gary Mundy for Broken Flag. A Dirter Promotions release. For Genie
SOUNDCHECK CHANGELING written and recorded during the HOMELESS sessions by Dennison, Best and Mundy (with Anthony di Franco and Staurt Rossiter).
Tracks:
Disc One: SOUNDCHECK CHANGELING, ANAHEIM 73
Disc Two: SHOOTERS HILL: Sure As Shit, Crusade, Pole Song, Rawbone, Fun Stealer, Much Too Late By Far, Shooters Hill, In For The Kill, Oedipus Rex