ARGON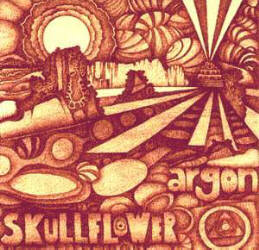 Released in 1995 on Freek Records. A very odd album, and to a large degree the beginning of their move away from the early freak-out sound into something... uh, different. This is my least favorite of the Skullflower albums, although I know others who find this excellent.
Skullflower at this time were:
Matthew Bower: guitar, chinese horn
Stuart Dennison: percussion, violin
John Godbert: reeds
Russel Smith: guitar
Philip Best: whistle on IV
Tim Hodgkinson: sax IV
Notes:
Track 1 recorded live at the Bull and Gate, London (August 23, 1994).
Track 2 recorded at the Tannery, Ulverston (September 18, 1994).
Track 3 recorded at the Paradiso, Amsterdam (February 17, 1995).
Track 4 recorded at Dead and Alive Studio, London (August 24, 1994).
Art: John Godbert. Thank You: Ramleh.
Tracks:
Argon I (14:55), Argon II (the golden saw) (16:40), Argon III (each builds his own wall cruising at 31,000 ft.) (29:34), Argon IV (17:05)