IIIRD GATEKEEPER (reissue)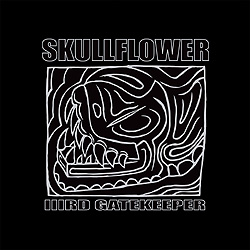 Reissued in 2007 by Crucial Blast in digipack format with a new design, extensive liner notes, and remastering by Scott Hull.
Skullflower at this time was:
Matthew Bower: Guitar
Stuart Dennison: Drums, vocal
Anthony di Franco: Bass
Recorded 90/91 at JTI, London by the Godlike Ian MacKay
Tracks:
Can You Feel It?, Black Rabbit, Larks Tongues, Center Puss, Saturnalia, Rotten Sun, Vanadis, Godzilla, Spoiler
ADDENDUM TO THE TEXT THAT FOLLOWS:
Anthony diFranco has requested that I correct some erroneous information in the liner notes to the reissue (reproduced below). More specifically, Anthony says:
I don't play any drums on RUINS: I play "bass note guitar" on "elephant's graveyard" and bass on "black ass bone" (matthew actually plays drums on both these tracks), and I play bass on "eat the stars." Less important, but "last shot" isn't a live album, it's all studio apart from " rotten sun 2," which is live.
TEXT OF THE LINER NOTES BY RKF:
SKULLFLOWER. Rarely has a name so perfectly encapsulated a band's sound and vision; even more rarely has a band lived up to such a powerful, evocative name. For approximately a decade, up until the original band ceased in 1996, Skullflower was one of the most reliable purveyors of blown-out skronk-rock, exploding to the endless, open sky with wailing psychedelic noise guitar, yet anchored to the cold, dead earth by seismic basslines and thundering drums. They were also relentlessly prolific -- during that one decade, the band managed to release no less than thirteen albums and almost as many singles while appearing on a dizzying number of compilations. Their early albums and singles are legendary examples of sonic excess, barely controlled explosions of chaotic, primal energy intense enough to shatter speakers and fry eardrums. While the band has always been (at least until recently) a relatively obscure name in the US, overseas their impact has been enormous. Members of Ascension, Zos-Kia, Terminal Cheesecake, Whitehouse, Total, Ramleh, Breathless, and Coil have all played in the band at one time or another; several of their core members were early and influential players in the 1980s power-electronics scene dominated by bands like CON-DOM, The Grey Wolves, New Blockaders, Whitehouse, Sutcliffe Jugend, Esplendor Geometrico, Phallus Dei, Consumer Electronics, and Gioncarlo Toniutti; their first releases were among the earliest documents from the legendary power-electronics label Broken Flag; and it should be of no small interest to post-industrial metalheads that they were a huge influence on (and occasional tourmates with) Godflesh, who went on to become one of the most important post-industrial bands of the UK in the 1990s. Skullflower were also one of the first rock bands to play the kind of free-form, bass-heavy, feedback-laden improv noise rock later favored by the likes of Earth, Sunn O))), Gravitar, Boris, and too many others to name. The simple truth is that the vast majority of today's noise-rock scene was either predated by Skullflower in sound and vision, or simply wouldn't exist at all had they never gotten around to forming in the first place. And unlike most of the noisy, sludged-out rock deconstructionists that followed in their wake, they still have one of the coolest names in the history of recorded music.

III

Skullflower began (and will almost certainly end) with guitarist Matthew Bower, the one constant member among a sea of intermittent players. (Drummer Stuart Dennison, the only other player to appear on all the albums prior to the band's original dissolution in 1996, doesn't appear in the reformed version of the band, which is now essentially just the work of Bower and occasional guests.) Bower and Dennison first played together in Les Fleur de Mal around 1979-80, then in The Wayward Boys and A Sulphur of Lions; after the latter band dissolved around 1982, Bower went on to form Pure, along with a nebulous group of players that included Stephen Thrower of Coil and Zos Kia members Alex Binnie and Stefan Jaworzyn, while Denison formed 00:00, a short-lived proto-industrial band that performed only two gigs (one at the Concord Club in Brighton and another at a long-forgotten club in London) and made a smattering of still-unreleased recordings. During this period Pure slowly morphed into the band Total (whose early output was later documented on the 1987 Anomalous Records cassette 84-87), with a sound very different than that of the project's later period, when it was strictly Bower's solo venture. (Total, which reverted back to a solo project for Bower when Skullflower took off, eventually underwent yet another change after the disintegration of Skullflower, when Bower gave up on the name and began recording as Sunroof.), Around 1985, Bower asked Dennison to work with the band, and after playing briefly under the name Raiders, the band changed its name to Skullflower, and its still-fluid lineup began playing live shows (one of which yielded "What Did You Expect?" -- a track that would later show up on the cd version of XAMAN).

III

Skullflower's early core consisted mainly of Bower (guitar), Stefan Jaworzyn (guitar), and Stuart Dennison (drums), with the occasional appearance of additional players such as Ramleh guitarist Gary Mundy, Stephen Thrower, Alex Binnie, and the enigmatic young noisemaker JFK (aka Anthony diFranco). Less an actual band at that point than a concept, they sought to annihilate rock music by turning it inside out -- their first full-length album wasn't called FORM DESTROYER for nothing -- grafting unpredictable and often inexplicable waves of noise and endless riffing over Dennison's thunderous beat. Inspired equally by contemporaries Throbbing Gristle, Whitehouse, and Ramleh (whose guitarist, Gary Mundy, frequently showed up in the studio and on stage with them, and whose label, Broken Flag, was the first to release the band's albums) as by more rock-oriented bands like the Stooges, Led Zeppelin, and Jimi Hendrix, the early lineup's sound benefited enormously from a shared love of freeform noise, jazz, pure spontaneous improvisation, and truly excessive volume. Around 1986-87, the lineup solidified around Bower, Jaworzyn, and Dennison, resulting in memorable early appearances at venues like The Richmond in Brighton (supporting AC Temple) and the Bull & Gate in Kentish Town, London. Dennison left the band briefly for unknown reasons after the the release of the first ep (hence the recruitment of Coil member Stephen Thrower to play drums on some of the tracks that subsequently appeared on FORM DESTROYER), but returned shortly thereafter, this time to stay.

III

This inspired meeting of the minds (and amps) created the perfect bridge between the heavy rock of the seventies and the growing lust for noise and power electronics that flourished in the eighties, a sound clearly reflected in their earliest work, especially on the initial SKULLFLOWER (aka BIRTHDEATH) ep, FORM DESTROYER, and XAMAN. They recorded whenever they could -- usually with the help of engineer Ian MacKay at JTI/DNA Studios, located under a railway bridge in London -- and established early on the peculiar aesthetic of releasing singles (some live, some recorded in the studio) whose tracks would often later be reworked for album releases. Organization was never the band's strong point -- indeed, the same shambling chaos reflected in their sound was always present in their approach to the band; unlike most bands of their time, they were notoriously indifferent toward the cult of personality, to the point of never including pictures of the band members on their releases (and sometimes omitting the lineup details entirely). During the band's first few years of existence, they were generally inclined to press up just enough copies of any given release to give away to friends, sell to a few stores, and sell at shows, with the result that most of their early catalog went out of print almost immediately upon release. They didn't care; they were too busy making noise to be bothered with the trivial details of publicity and merchandising. (In the band's entire existence, there has been exactly one t-shirt design available, in extremely limited quantities, and it may well have been a bootleg.) Likewise, the shifting, drifting nature of their lineup and the necessity of taking a guerrilla-style approach to recording -- borne of financial considerations, conflicting schedules, and the difficulty of getting players located all over the map into the studio at the same time -- meant that the early albums had a loose, raw, even scattershot quality that did a lot to enhance the band's reptuation for volatile unpredictability, but didn't exactly make the albums sound terribly unified. (XAMAN, largely recorded as one piece and including material that already been tested on singles and on stage, was an exception.) Then Jaworzyn quit after the sessions for XAMAN in the wake of a clash of wills with Bower over the mixing of the album, and everything changed.

III

IIIRD GATEKEEPER, the album that followed XAMAN, is an iconic Skullflower release (and the clear fan favorite) for a number of reasons. Its name has turned out to be ironically appropriate, for it has become the "gateway" album by which most listeners outside of the UK were first turned on to the band's hellish noise miasma; released in 1992 on HeadDirt, the label established by Godflesh guitarist Justin Broadrick (whose own band spent many early performances on bills with Skullflower), it was the first album of the band's to be professionally distributed, and to this day is still the easiest of the early releases to find, despite the fact that HeadDirt has been defunct for a decade now. (Ironically, the band's second release on HeadDirt -- INFINITYLAND, one of the heaviest albums the band ever made, recorded with lineup featuring ex-Terminal Cheesecake guitarist Russell Smith on guitar -- is now almost impossible to obtain.) It was the first release to not feature Jaworzyn, no small matter of importance given his prominence in the band's sound up to that point; it was also the first to feature a full-time bassist (Anthony diFranco, who had last appeared with the band as a drummer on RUINS), and the first on which diFranco appeared as a full-fledged member of the band. Most significantly, whether by circumstance or design, it was also the most focused and consistent album of the band's career to that point, and one equalled by only a few others in the band's subsequent catalog (most notably LAST SHOT AT HEAVEN, their following album, which was recorded live in Northampton in 1992 with the same lineup, at a gig organized by the head of UK avant-noise label Cold Spring Records). Recorded and mixed in three days in 1991 at JTI in London by Ian MacKay, the album that resulted from their brief but focused sojourn into the studio, according to diFranco, "had the sound we were aiming for and, in some ways, exceeded our expectations." Bower spent a great deal of time preparing his guitar sounds for the recording sessions, while diFranco and Dennison formed a wholly natural and punishing rhythm section that gave shape and direction to Bower's howling, speared-pig guitar noise. The brief time allotted to recording forced them to keep things direct and relatively simple, and engineer MacKay was pivotal in successfully capturing the band's enormous, blown-amp sound on tape. The album's nine tracks, with titles parodying well-known songs and phrases by the Stooges, Jefferson Airplane, King Crimson, and Blue Oyster Cult, proved to be the band's most potent blast of shuddering, wailing noise rock yet; more to the point, in contrast to earlier releases, the songs were shorter and perfectly balanced between the extremes of blues-based rock and catastrophic free-form noise. The experiments and sometimes hit-or-miss strategems of the previous releases culminated here in track after track of exotic bludgeoning power, with no filler and a fresh, otherworldly sound unlike anything else happening in rock at the time.

III

Alas, the perfect lineup didn't last any longer than the rest of them. When the album was released, the band did a brief tour of the UK with Godflesh, playing dates in London (first at the Borderline supporting the Pathological act God in September of 1992, with Alex Binnie along for the ride as a mostly inaudible synth player, then at the Marquee in November, supporting Godflesh), Leeds, Newcastle, Birmingham, and Northampton (the show that formed the nucleus of LAST SHOT AT HEAVEN). A few months after the tour ended, however, diFranco left the band to begin work on the first Ax album. After diFranco's departure, Bower and Dennison -- aided and abetted at various times by Philip Best (Ramleh, Consumer Electronics, Whitehouse), Simon Wickham-Smith, and ex-Terminal Cheesecake guitarist Russell Smith, who eventually became the band's third official member -- began to drift into a more strictly improvisational direction, draining more of the rock from its sound with each subsequent release. (INFINITYLAND, possibly their heaviest release ever, was a perverse -- and almost certainly deliberate -- exception to that fogbound celestial drift.) By the time of the band's final 1996 release, ... THIS IS SKULLFLOWER, their sound more closely resembled psychedelic lounge music than anything one might call "rock." Shortly after the release of that album, the band -- fatigued by the hassles of recording and touring with members living in totally different cities -- packed it in. (Bower resurrected the band as a mostly solo venture seven years later with the 2003 tUMULt release EXQUISITE FUCKING BOREDOM, but that's a story for another time.) Nevertheless, the legacy lives on, and with any luck, this reissue will the first of many to bring their amazing back catalog to light again for the waiting ears of a new generation of listeners.

-- RKF (with special thanks to Sacha Colgate, whose interviews with Anthony diFranco and Stuart Dennison were an invaluable resource)