OBSIDIAN SHAKING CODEX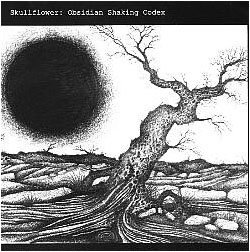 Released on RRR in 1993 (?); later reissued with hand-painted covers done by Matthew Bower. This is one of the best of the early Skullflower releases; "Diamond Bullet" in particular is a real dronefest.
Skullflower at this time was:
Matthew Bower: guitar, bass, banjo, cymbal
Stuart Dennison: drums, violin, tapes, bells
Russell Smith: guitar on 2, 3
A. di Franco: bass and mixing on 5
Recorded at A.O. Millom, 92-93. "Smoke Jaguar" recorded at DNA, London, 11/23/91.
Engineers: Barry Vernon at A.O. and Ian McKay at DNA.
Thank you: John Godbert for the beautiful cover drawing. Barry Vernon and Ian McKay for enduring all. Philip Best and Gary Mundy for heightened existence. People who have felt it. Monster and Lemon, because. Remembrance: Nick, John H.
Tracks:
Sir Bendalot, Circular Temple, Crashing Silver Ghost Phallus, Diamond Bullet, Smoke Jaguar